Creativecoders Technologies is the right place from where you can hire a web designer to let your desire of having the distinguished and illustrious web designs come true. A web designer is a creative personnel who exclusively works on large canvases. Unlike a mobile interface designer, a web designer should possess the capability of designing the information in hand for a larger area. This in itself is a challenge which the designer needs to overcome, but creatively.
A creative web designer should be good with the design principles, technology knowledge and be adept in applying these principles while designing a website, web portal, web app or a responsive website. Of all the principles, he should be clever in focusing and aptly utilizing the abundant negative space, of the canvas, in laying out the interface's contents so as to make sense to the user. At the same time, make sure the overall design doesn't misplace its balance, movement, and rhythm.
It is imperative that a web designer strikes a perfect balance between art (creativity) and the client's business goals while designing the interface. While crafting a sensible web experience, our designers focus on the client's business goals, the business message to be conveyed and how the audience could potentially react to the interface. Along with this, the designers also bring to fore the website's underlying good experience.
Websites can be broadly classified into two segments – Informative (Websites) and Interactive (Web Apps). Corporate, E-Commerce and Responsive websites fold under informative sites; wherein the designers focus chiefly on the Information Architecture (IA) of the site and organize, structure and label its contents. The key aspect of informative websites is 'findability' – enabling users to quickly find any information without hurdles.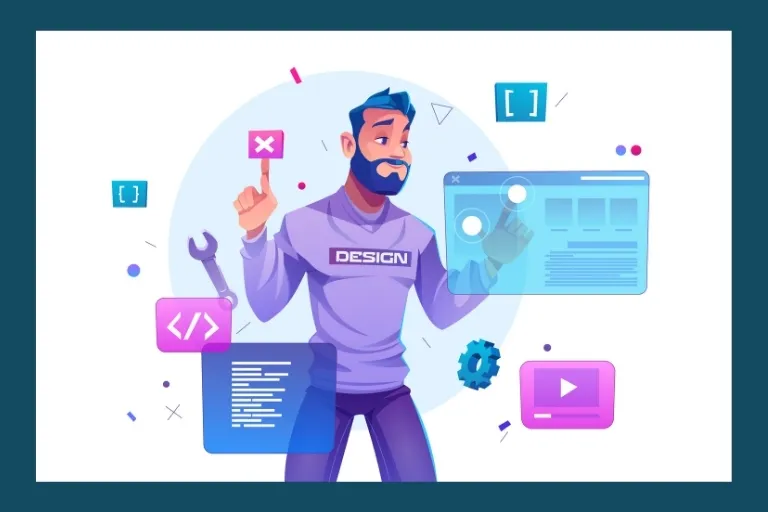 Web Portals, Company Intranets, Bank/Insurance Websites fold under interactive websites. Such websites call for lots of interaction between the interface and users. The key aspect of interactive websites is 'seamless interactions' – enabling users to effectively and efficiently accomplish their tasks.
Creativecoders Technologies web designers are capable of designing responsive websites. They focus on strategizing the contents and anticipate how the same information would appear on different form factors, even before the actual designing starts. This way, designers find a balance between what information is to be shown on what target device(s) and the target audience's expectations while using that specific device.
Creativecoders Technologies can relieve you of the burden of maintaining in-house Web designers by providing creative Web designers for hire on contract for any duration, working onsite or offshore with competitive rates. Hire our dedicated Web designers in India who are inventive with the hands-on website and web app design experience.
Hire Web UI Designers on Contract (Onsite/Offshore)

Web Designers to Design Clean and Customized Websites

Web Designers to Design Unique Template-Less Websites

Web Designers to Design Web Portals

Web Designers for Responsive Website Designing

Web Designers for E-Commerce Websites

Post Your Project requirement
Send your requirements to hire skilled Web Designer for your project. Our expert analysts evaluate project scope, technical functionality and recommends the most experienced resource suited for project.

Discuss Project Details with our Analysts
Our inside sales team initiates a call to understand the project in detail and offer the best solution for the designing.

Choose Engagement Terms and Timelines
Choose from our flexible engagement models based on the project consultation by our expert analysts and once the proposal is approved, our web design team starts the work.

Securely Pay Online and Get Started!
Easy payment through our 100% secure online system and our team of designers will be immediately deployed to initiate the project.
Designers with good design sense and with creative skills.

Hire web visual designers having expertise in designing visually appealing designs by following the established design principles and W3 Consortium guidelines.

Hire web graphic designers with the ability to create clean and flexible website designs.

Ability to use tools like Sketch, Photoshop and so on to create designs.

Ability to utilize Bootstrap's grids while designing responsive websites.

Ability to structure the contents as per devices while designing responsive websites.

Web designers with an eye for details to make things visually appealing.

Experience with and enjoys working within an international agile design environment.

Good communication skills.
We provide short-term and long-term support on client projects for all their Website design requirements. Our designers comprise the capability to work on an existing client website to enhance its visual appeal or work on a new project from scratch and make it a success.